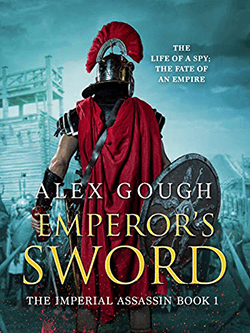 The Story
As Silus is inducted into the Arcani, an elite faction of assassins and spies, he must return to Caledonia, back into the wilderness, and risk everything in the service of his Caesar. The odds don't look good.
Failure is not an option.
Roman scout Silus is deep behind enemy lines in Caledonia. As he spies on a raiding party, he is abruptly discovered by an enemy chief and his son.
Mounting a one man ambush, everything quickly goes wrong. Silus must run for his life, the head of the enemy leader in his hands. Little does he know the price he will pay…
Buy Now – £
A blood-soaked and unputdownable Roman thriller, anchored in detailed historical research, perfect for fans of Ben Kane, Conn Iggulden and Robert Fabbri.
Gritty and real, exciting and pacy, this is first rate historical fiction, and Gough is clearly ready to take his place among the leading writers of the genre